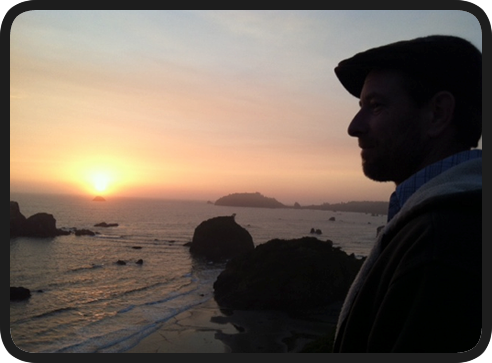 In 1973 Jared DeLong was born at home in the Santa Cruz Mountains. He was raised by his benevolent parents who kept him grounded and the surrounding redwood forest that cultivated a free spirit. Jared was first introduced to the demanding medium of glass at an early age working alongside his mother cutting stained glass. Encouraged by a school teacher, Jared began to recognize his love for art and the need for expression.
Intimidated but not discouraged, Jared introduced himself to Lungberg Studios to seek employment. During this humbling period DeLong observed artists while he swept up around the studio. He loved every aspect of the hotshop environment with sounds of tools, smells of burning cherry wood, and the medium itself was an inspiration. Accepting a job as Assistant to the Cold Shop Manager wasn't where he wanted to spend his career, but it helped to establish the way he would think and work with glass.
In 2000 Jared moved to Trinidad, California where he started Lost Coast Glass and had a successful partnership creating paperweights for the L.H. Selman Gallery. Many professional opportunities began to rise such as teaching and attending classes at the Niijima International School of Glass in Japan and Venice, Italy. The cultural experiences combined with his love for nature fuel his creativity.
DeLong continues to live and work with his wife in Trinidad; together they manage the Lost Coast Gallery.
Personal  Statement: This delicate art of hot and cold glass simply humbles me and I am grateful to create with both. Overall, my artwork is an attempt to provoke the truth within myself and hopefully reflect in you.